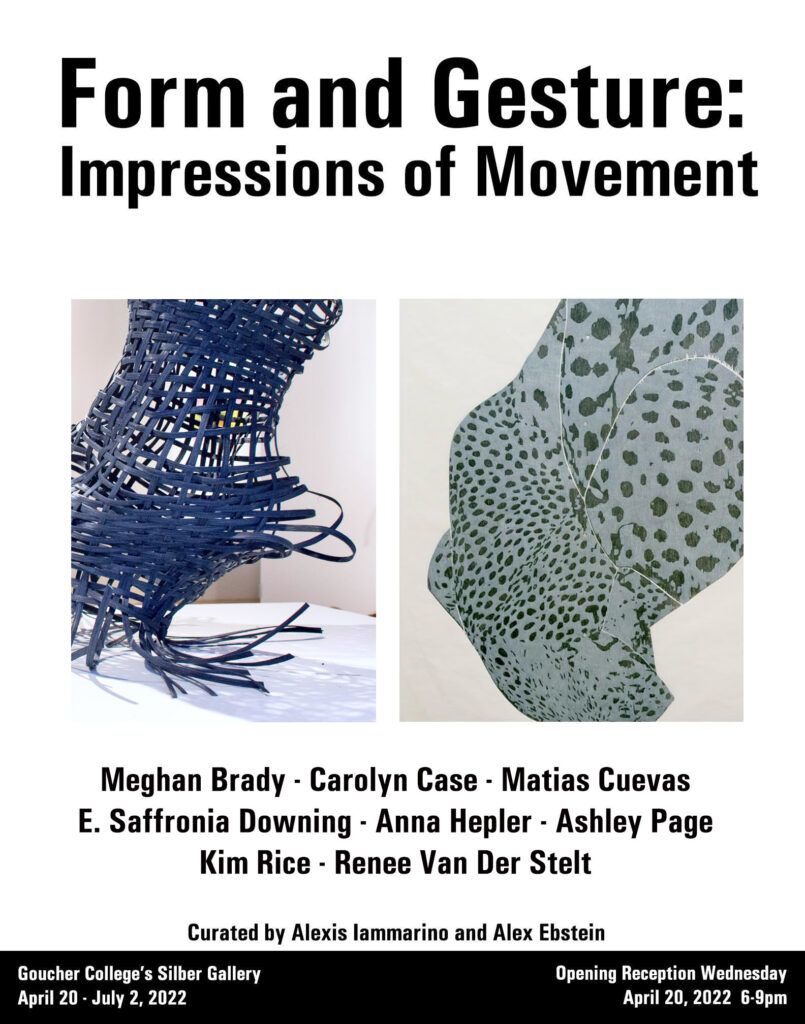 Form and Gesture: Impressions of Movement
Artists: Meghan Brady, Carolyn Case, Matias Cuevas, E. Saffronia Downing, Anna Hepler, Ashley Page, Kim Rice and Renee Van Der Stelt
Curated by Alexis Iammarino and Alex Ebstein
Goucher College's Silber Gallery
April 20 – July 2, 2022
Form and Gesture: Impressions of Movement couples the vocabularies of movement analysis with the formal analysis of visual arts. The pieces included are artifacts of their own production, documents that describe their own making. The aesthetics and forms are a direct result of physically rigorous or improvisatory studio processes performed by the artists. The show is an invitation to imagine and discuss how the artists' movement contributes to their techniques. It also informs a deeper appreciation for and expression of their art practices across geographies, generations, and cultural identities.
Artist Curators Iammarino and Ebstein gather works in which the visual form, structure, and physicality articulated in the making prompts discourse between the divergent approaches to material use and craft explored by each artist. Similarly, they consider the creative communities of feedback and support as well as the geographies that contribute to these distinct, visual voices. Within the gallery, "movement" is unpacked into the paths of individual action and stillness, group momentum, formations of community, restrictions and tensions, and the suggestion of future trajectory Giving attention to the physical effort evident in their studio practices and the ways they choose to articulate their identities within the works, artists in this show move, labor, perform, and directly collaborate with their materials to forge the meaning of their work. The resulting objects convey personal and political narratives located within the corporeal actions, emotive presence, and conceptual interests that individuate and braid together conversations between artists. Here the curators consider the bodies of the artists' as conceptually fluid entities, each positioned to represent self between the physical, the social and/or a situated body politic.
Dance and restorative practices anchor Iammarino's studio practice in the visual arts and community-based collaborations; including her work as a muralist, cinematographer, director/curator of public history publication platforms and exhibitions. Ebstein's visual arts curation is informed by her commitment to community and occupying and sharing creative space in Baltimore, in both co-founded galleries and existing, artist live/work warehouses. Her studio practice finds commonality with and inspiration from the artists she works with in both her curatorial and professorial roles.Pairing these overlapping interests with different focuses examines how artists build both a visual language and physical practice –in the studio and as part of a larger conversation about how abstraction and formal language interact. By examining echoes of similar forms, spatial relationships, material transformations, and tactile objects, the works challenge the expectation that like forms convey like ideas